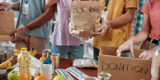 The City of Lemon Grove recognizes the concerns surrounding Homelessness in our community. We have made it a priority to work diligently in finding solutions to combat this matter. City Council has directed staff to explore partnerships with non-profit organizations to aid in providing behavioral health services as well as long and short-term housing solutions. Through the Heap grant, we are currently partnered with Crisis House, HomeStart, The Salvation Army and Family Health Centers of San Diego. 
As the City continues forward with implementing a homeless outreach program, it will continue to search for funding sources that can support the City's efforts to support their efforts to no longer be homeless by matching interested parties with some form of permanent housing.  
This process is not easy and often times there have to be intermittent steps taken to best position each homeless individual with other services to eventually find a home.  In this process, if residents, businesses, or guests are interested to support or donate funds for hygiene kits items and other items needed you may reach out to Christian Olivas, Management Analyst at 619-825-3813 or by clicking the link below.
Stay Connected, Stay Informed